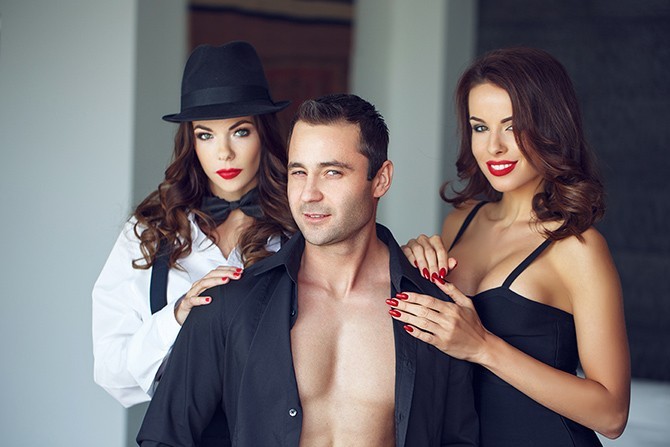 Having a threesome with two escorts is fantastic, because you will receive all the attention with a plus: we have bisexual girls, who can have an erotic lesbian behavior in front of you that you will surely love.
Sensuality in a threesome with two escorts
A lesbian service is one of the most sensual, because you will see two girls who kiss and play with their fingers between them and with you, if you want.
Everything will start with a erotic shower in which you will be the center of attention, then you can have an erotic massage for four hands and then, it will be an exciting game full of caresses, four hands, two mouth kisses and much more, that will take you to the maximum point of pleasure and the most difficult fantasy for a man to achieve.
A fantastic threesome with two girls who surely need to unleash all their eroticism and are not ashamed to do everything they like in front of you, and also include you in the plan.
Unbeatable poses
If you like porn, you will know that there are positions in a threesome with bisexual escorts that cannot be performed in any other way, for example, a 69 between them while you take advantage of the one above, and many Unparalleled poses more in which you can also use sex toys , of which they will undoubtedly enjoy enormously .
Think of the funniest and most pleasant pose that you can get to enjoy in a threesome with two bisexual escorts and enjoy right away! These two girls will be absolutely complacent with you and also with each other.
As advice, the ladies will bring a lot of condoms to the date, because you will have to change the condom every time you change girls, or leave this part for a final triumph and give each one what she is wanting.
Special services in a threesome with two escorts
The lesbian escorts that are going to be in your trio with escorts can really give you unparalleled pleasure, but if, in addition, you want special services such as costumes, a striptease show, deep throat , golden shower, lingerie, Greek, balloons, fetishes and more you can request it when you request your appointment.
Also, if you like that between them there is a show BDSM can also be arranged, it all depends on your taste, but What we are totally sure of is that you will have an absolutely unique experience that you will remember for a long time, and also, you will want to repeat it over and over again.
There are escorts who already know each other and have been working together on this for a long time, so they have more confidence and between them the natural spark of sensuality sprouts right away, so, if you do not have an escort of your choice, you can greatly enjoy requesting a trio with bisexual escorts, we'll take care of the rest!
Having an experience with a trio of bisexual escorts is one of the best experiences you can imagine and without a doubt in our agency of escorts you will find everything you need to have a unique and sensational experience that will be absolutely delicious.
---
Escorts that perform the service of a threesome with two escorts