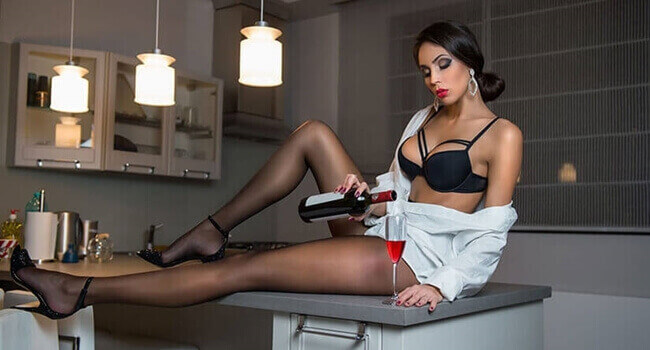 Food is one of the greatest pleasures in the world, there is an infinite combination of delicious flavors that will stimulate your senses. A good meal can awaken all your senses, as it relates both the visual and the aromas and flavors.
When you are with a super sexy Mallorca escort it is very interesting to spend an extremely fun time in an intimate environment and with a huge amount of sensuality, that will undoubtedly overflow your passion.
Also, nothing more stimulating than having a wonderful conversation with a cheerful and sensual girl who will undoubtedly awaken your senses fo7r what follows.
Luxurious restaurant, an excellent place to go with an escort
It is very interesting to go to a luxurious restaurant with a luxury escort, since this is an ideal point both to start a date and for an excellent ending after a great day of burning passion.
Food and sex are an absolutely perfect combination. At the same time, these experiences produce chemical changes in our body, awakening different sensations that will be absolutely fabulous.
After all, the mouth is used in both activities in absolutely wonderful ways.
Nothing better to stimulate sexual attraction than a delicious and stimulating dinner. Did you know that escorts dress very elegant and sensual when you invite them to dinner?
They will always wear an almost invisible lingerie, in addition to going with extremely high heels that combine perfectly with their hairstyle, makeup and other elements that will turn your dinner into an extremely sensual event.
A luxury escort can really give you absolutely wonderful caresses that will ignite your passion like never before.
His way of speaking and moving in this type of environment will help you to excite your senses so much that the end of the night will undoubtedly be full of unparalleled madness that will really take you to a very active night.
What does the dinner service and intimate company include?
Dinner and intimate company is an excellent 3-hour service that will include going to lunch or dinner with a beautiful escort with a perfect body, to the place of your choice, and then to a dating apartment, a hotel, your own home or hers, to spend an absolutely great night that without a doubt you will not forget.
If you are new to the city we can book and recommend a good number of exclusive, luxurious and discreet restaurants that will really be special to have a very interesting date that will leave you completely satisfied in both ways.
Have you ever had dinner with a sweet princess? You will surely have your first opportunity with a luxury escort, so you will have a lot of sensations at your dinner or lunch that you will undoubtedly love.
You will surely love having the dinner and accompaniment service , well, you will have the magnificent opportunity to enjoy a large number of wonderful elements that will complement your dinner, since, under the table, anything can happen! !
---
Escorts that perform the dinner service and intimate company